Free Vermont License Plate Lookup
Vermont, located in New England region, is the sixth smallest US state. The state has an area of about 9,616 square miles. It is also the 2nd-least-populated US state, with a recorded population of around 643,503 citizens. Similarly, the latest data from the vehicle registry shows 206 thousand units. By all means, use a Vermont free license plate lookup to know more about cars that interest you.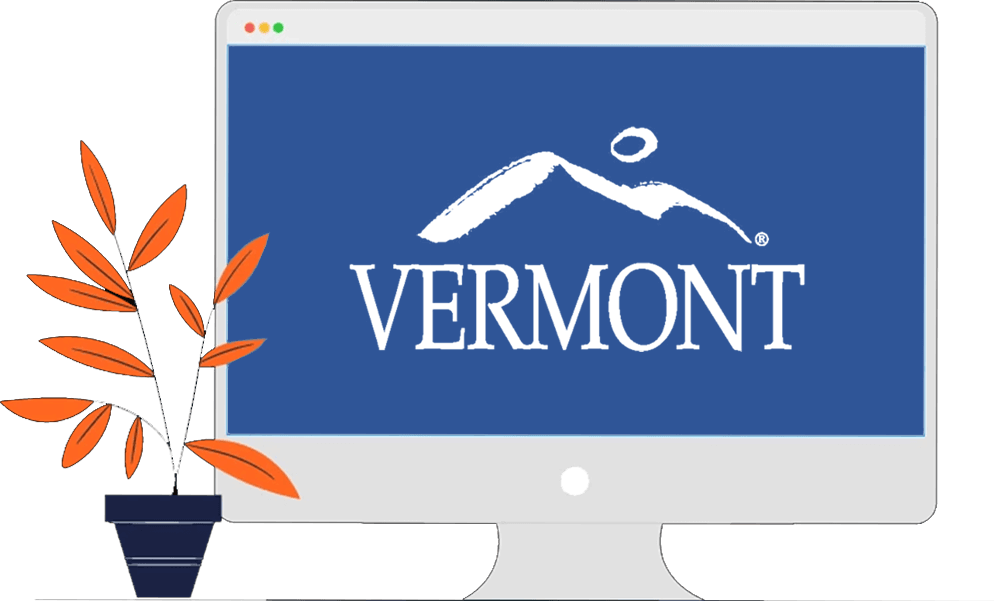 Vermont Department of Motor Vehicles
The Vermont Department of Motor Vehicles, a subdivision of the Vermont Agency of Transportation, is responsible for processing DMV papers. These include vehicle registration, title, license plates, driver's license and ID as well as driver's permit. They can be processed in any local office of the agency. Since 1990, the current plate design bears the slogan 'Green Mountain State' and uses a serial format of 'ABC 123'. Each vehicle (except for motorcycles and trailers) must be equipped with two license plates.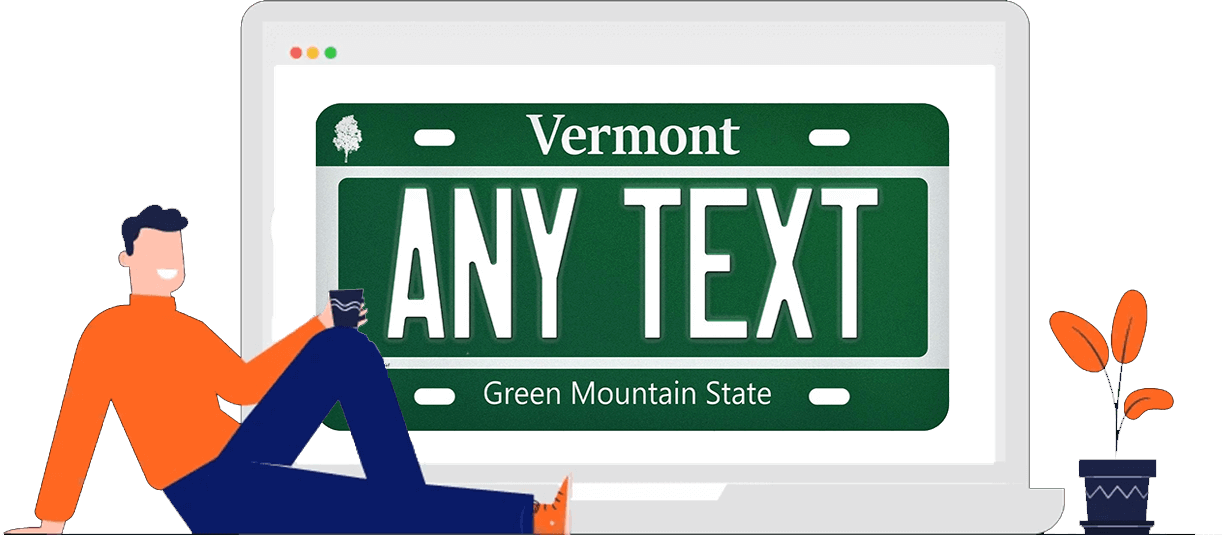 What can a Vermont license plate number tell you?
A Vermont license plate number can be useful in many ways. It can be used to track, authenticate and background check a vehicle's existing records. However, not all personal details can be divulged in public due to the federal Driver's Privacy Protection Act. Even so, a free Vermont license plate lookup remains a valuable tool for enterprising car buyers to get only the best of car deals.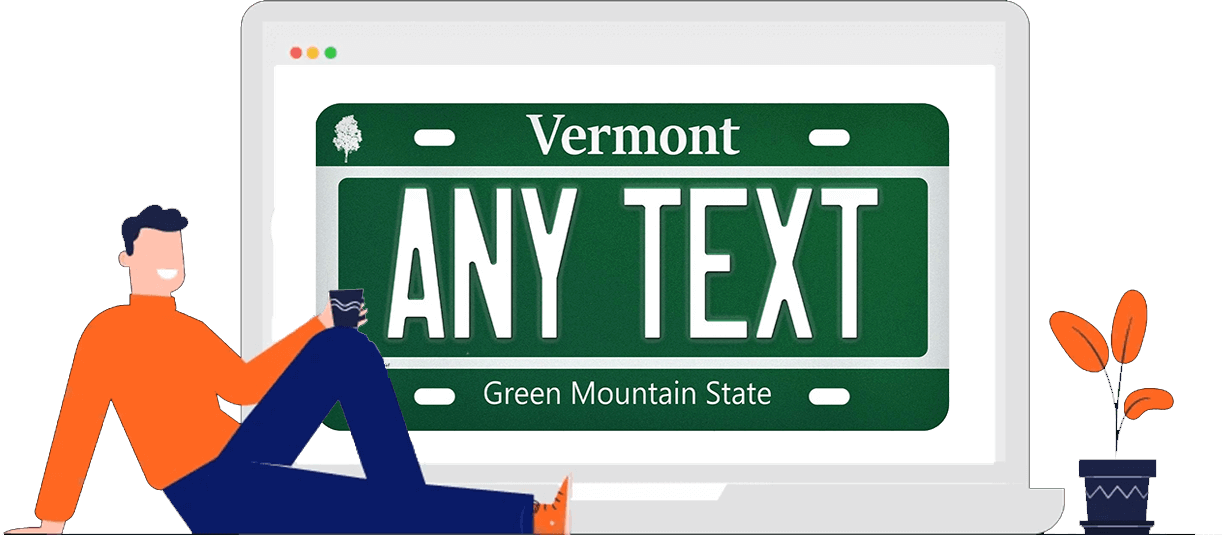 Vermont License Plate Lookup
Enter a free Vermont license plate number to access the vehicle history report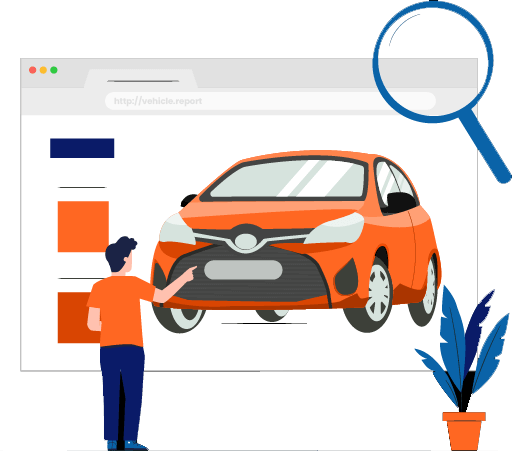 Where can I find the license plate number?
First, check the number on the two Vermont license places located on the front and back of the vehicle. Make sure they are identical. To be on the safe side, you may also review vehicle documents that may carry legit data on plate number, such as registration, title and insurance. As a last resort, you may also contact the Vermont DMV to confirm the validity of a plate number.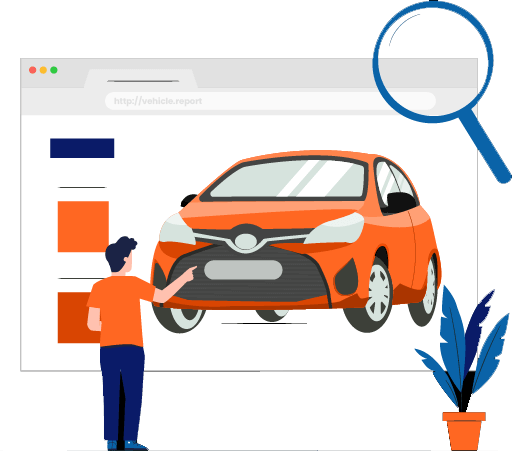 What do I get out of a Vermont license plate lookup?
Any Vermont license plate number can be your key to a reliable vehicle history report
Vehicle Specifications
model, engine and transmission type, speed, other basic and performance-related details
Vehicle Records
registration status; theft, title, accident, sales, liens, flood damage, and other vehicle records in Vermont and other states
Market Value
estimates based on the prices of similar model and make in Vermont and other parts of the US
Safety Ratings
safety ratings based on crash tests by the Insurance Institute for Highway Safety (IIHS)
Fuel Efficiency
distance traveled for every gallon of fuel consumed 
Warranty and Recalls
warranty status (including time remaining for the coverage), recalls and fixes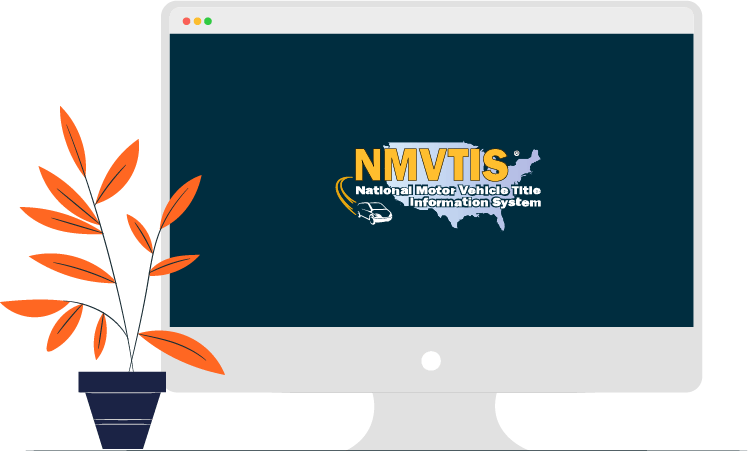 What are the sources of license plate search results?
Vehicle.report contains invaluable information on vehicles. They acquire data across varying sources. These include reputable data providers like DMVs, auto manufacturers, NMVTIS, car dealerships, traffic safety authorities, insurance providers, law enforcement agencies, auction shops, emissions inspection stations, vehicle rental and fleet companies, salvage or junk yards and collision repair shops.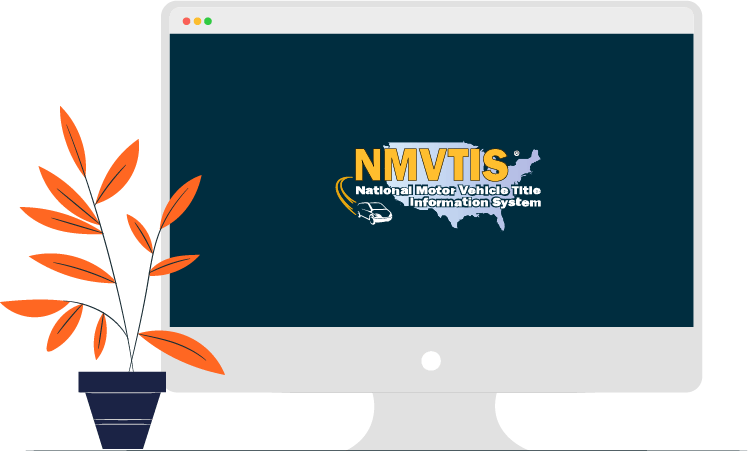 Vermont License

Plate Lookup

Enter a Vermont license plate number to run a full vehicle history report
Vermont License Plate FAQs
Answers to the most frequently asked questions on license plate lookup
What is the difference between a Vermont license plate lookup and a Vermont VIN check?
Both tools are useful vehicle data providers. Their only real difference is with the search index used to acquire and present the data. A Vermont license plate lookup, as the name suggests, requires a plate number to display vehicle info. A Vermont VIN check uses the vehicle identification number assigned to a car by the manufacturer to uncover data.
What are the types of license plates in Vermont?
The license plate categories available for Vermont registered owners are Safety/Service Organizations (5 plate designs), Special Fund Plates (2 plate designs) and Organizations (4 plate designs). A total of 11 specialty plate designs are currently available. Each plate design has a corresponding set of requirements that must be passed by interested applicants.
Can I get a personalized license plate in Vermont?
A Vermont driver may apply for a personalized license plate that may take up to 30 days to be delivered. Depending on the plate type, any alphanumeric combination (up to seven characters) can be suggested. There are some rules to be observed when making a combination. Any sequence involving more than two numbers is not allowed when involving letters. The letter 'O' is instantly converted into zero to avoid confusion. Spaces are allowed, while special characters are not. Any combination starting with letter 'Z' will be rejected. The same is true for single-letter combinations bearing letters such as 'I', 'J', 'O' and 'Z'.
How can I apply for a Vermont license plate?
A Vermont car owner can apply for a Vermont license plate provided they completed vehicle registration within 30 days of car sale. To this end, they must fill out and submit the application form, pay the fees and dues, and satisfy all the requirements that will be asked by the state.
Important Links for Vermont Car Owners and Drivers
Other related resources you can access for free
Vermont VIN Check
To run a comprehensive vehicle history report, you can use any Vermont VIN